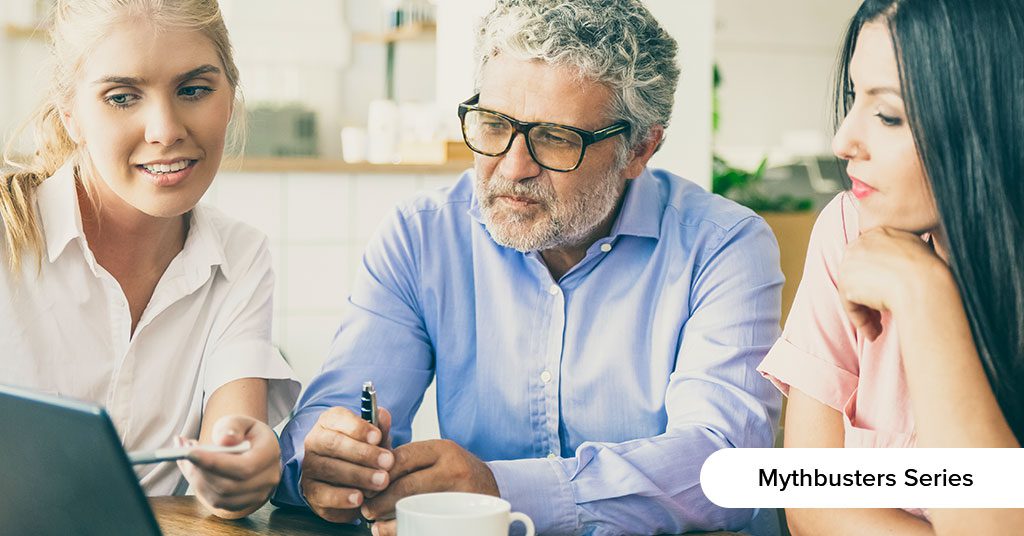 In our Mythbusters series, we're uncovering some of the common myths or flawed ways of thinking that the general public has about insurance, and how you can rectify these misconceptions in the minds of your customers and potential customers.
Myth: Set It and Forget It.
First, what does "Set It and Forget It" mean?
What this means is that consumers of insurance often have a notion that when they buy their insurance it's a done deal and they never have to think about it again. Unless they have a claim to file, of course. 
As insurance producers, we know this is entirely not true. In fact, it's irresponsible of us to let our customers assume they should ever take this approach with their insurance of any kind. 
It's true that insurance is not something people love to think about. They want to deal with it as little as possible, truthfully. And as much as we want our customers to be comfortable with their insurance decision, pay their premiums on time, and hopefully never have to file a claim against their insurance, we know that never thinking about their insurance once they lock it in is not in their best interest. 
Why?
Because people's lives change. As people age and their families age, and as careers grow and possessions accumulate, insurance needs change. Believe it or not, this is something that a lot of people don't give a lot of thought to. And those that do think that they can just put a policy in place and it's going to cover them completely forever. 
So how do we bust the "Set It and Forget It" myth?
We educate. From the very beginning.
When we onboard a new customer we educate the customer and set the expectation from the very beginning of the relationship that it's important to review their policies every year or every other year because lives change and insurance needs change. 
We need to make sure that we are doing our job to see that the customer is adequately covered for all of the intricacies of their life. It's up to them to make adjustments or take coverage increases. It's our job to explain what is available to them.
Let's also approach this myth from a different angle. 
What does reviewing policies and reviewing coverages do for us as insurance professionals and for the Agency?
First, it builds trust. 
When we conduct reviews and even explain our review process, it builds significant trust and confidence with our customers. 
The review can be done over the phone with someone calling in to make a payment. That root review can be done. Or, you can have them come to the office and you can do a full, comprehensive review of all of their policies. 
Your customers will appreciate that because you're truly having their interests in mind. They know what they're paying for and we can completely cover them if something does happen. 
The confidence and trust that develops allow us to retain customers. They trust us, they're confident with us, and they like us. They're going to stay with us and they're not going to shop around. 
The second benefit to the Agency is pivoting. Conducting annual reviews allows us to pivot and create more opportunities with our customers.
As a multiline insurance professional, this is one of the biggest places you can optimize opportunities, create opportunities, write more policies and make more money… from your current customers. 
Customers who only have their vehicles or their home insured with us don't realize there are a lot of gaps within their life that should be insured. When you review those policies and review those coverages, there are places where you can pivot to say, Life insurance or Short-term Disability insurance. 
A pivot strategy is essential for writing more business. It's a simple asking your customer, "hey, let's make sure we have the right coverages in place for you."
Create value by educating your customers. Do they understand how their liability limits work? Explain them. This creates value. And it builds trust that you want them to understand their insurance and how it works for them. And with this trust, you can pivot to another line of coverage, again, as a means to educate them on what's available and why they should consider additional protection.
Chances are you'll write a few extra policies by simply educating.
Bust the "Set It and Forget It" myth with your customers from the beginning, and you'll increase the likelihood of gaining a long-term customer and open up the door to more sales opportunities.
********
Read More: Check out this post to understand the duties of licensed insurance professionals.