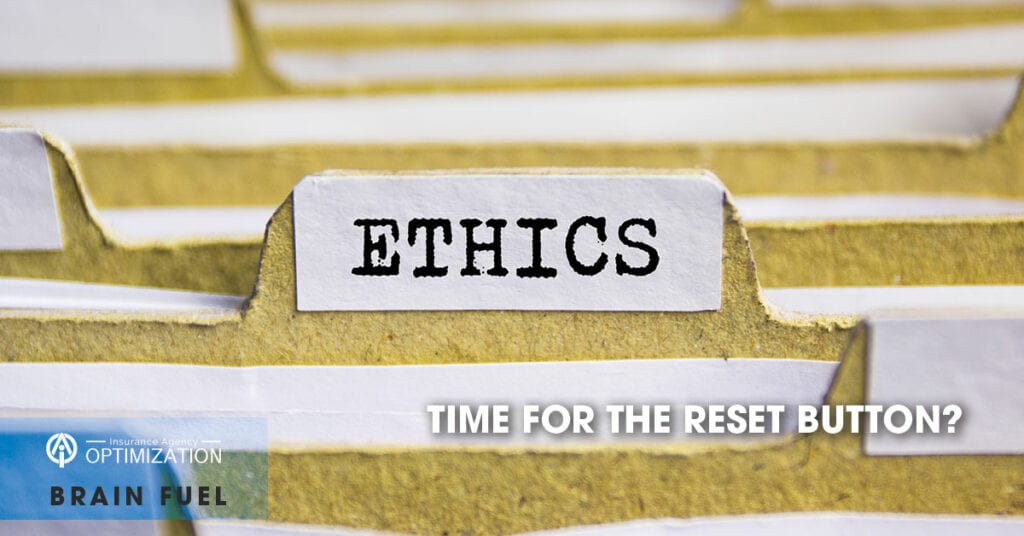 "Integrity is doing the right thing, even when no one is watching." ― C.S. Lewis
"Ethical" is one of the words we can take for granted.
Just because it means something to 𝙢𝙚, doesn't mean it is the same for 𝙮𝙤𝙪.
It could mean being honest, being truthful, being a "good" person. Maybe it means knowing "right from wrong".
In business classes, students are asked to confront the idea of ethics in business. Parents tell you not to lie, not to steal and to "do good things."
But what if you're in a business situation with a job you desperately need a sale and a customer asks you to tell a white lie on behalf of him/her?
Is it unethical to keep your job? Some will say most definitely yes, and some will say no.
Et𝗵𝗶𝗰𝘀 𝗮𝗿𝗲 𝗻𝗼𝘁 𝗮𝘀 𝗰𝗹𝗲𝗮𝗿-𝗰𝘂𝘁 𝗮𝘀 𝘄𝗲'𝗱 𝗹𝗶𝗸𝗲 𝘁𝗼 𝗯𝗲𝗹𝗶𝗲𝘃𝗲 𝘁𝗵𝗲𝗺 𝘁𝗼 𝗯𝗲.
We think we know the difference between good and bad, and a great majority of people do their best to act in accordance with what they think is morally right.
And to blur lines further, there are standards that we hold for ourselves and for others.
Without fully realizing it, we tend to judge other people a lot more harshly than we do ourselves.
𝗪𝗲 𝗲𝘃𝗮𝗹𝘂𝗮𝘁𝗲 𝗼𝘁𝗵𝗲𝗿 𝗽𝗲𝗼𝗽𝗹𝗲 𝗯𝗮𝘀𝗲𝗱 𝘂𝗽𝗼𝗻 𝘁𝗵𝗲𝗶𝗿 𝗯𝗲𝗵𝗮𝘃𝗶𝗼𝗿; 𝘄𝗲 𝗲𝘃𝗮𝗹𝘂𝗮𝘁𝗲 𝗼𝘂𝗿𝘀𝗲𝗹𝘃𝗲𝘀 𝗯𝗮𝘀𝗲𝗱 𝘂𝗽𝗼𝗻 𝗼𝘂𝗿 𝗶𝗻𝘁𝗲𝗻𝘁𝗶𝗼𝗻𝘀. 𝗦𝗼 𝗶𝘁'𝘀 𝗲𝗮𝘀𝗶𝗲𝗿 𝗳𝗼𝗿 𝘂𝘀 𝘁𝗼 𝗼𝘃𝗲𝗿𝗹𝗼𝗼𝗸 𝗼𝘂𝗿 𝗼𝘄𝗻 𝗹𝗮𝗽𝘀𝗲𝘀 𝗼𝗳 𝗷𝘂𝗱𝗴𝗲𝗺𝗲𝗻𝘁 𝘁𝗵𝗮𝗻 𝘁𝗵𝗲 𝗾𝘂𝗲𝘀𝘁𝗶𝗼𝗻𝗮𝗯𝗹𝗲 𝗯𝗲𝗵𝗮𝘃𝗶𝗼𝗿 𝗼𝗳 𝗼𝘁𝗵𝗲𝗿 𝗽𝗲𝗼𝗽𝗹𝗲. 𝗪𝗵𝗶𝗹𝗲 𝘄𝗲 𝗮𝘁𝘁𝗿𝗶𝗯𝘂𝘁𝗲 𝘁𝗵𝗲 𝘂𝗻𝗲𝘁𝗵𝗶𝗰𝗮𝗹 𝗯𝗲𝗵𝗮𝘃𝗶𝗼𝗿 𝗼𝗳 𝗼𝘁𝗵𝗲𝗿 𝗽𝗲𝗼𝗽𝗹𝗲 𝘁𝗼 𝘁𝗵𝗲𝗶𝗿 "𝗯𝗮𝗱𝗻𝗲𝘀𝘀," 𝗼𝗳𝘁𝗲𝗻𝘁𝗶𝗺𝗲𝘀 𝘄𝗲 𝗿𝗮𝘁𝗶𝗼𝗻𝗮𝗹𝗶𝘇𝗲 𝗼𝘂𝗿 𝗼𝘄𝗻 𝗮𝗰𝘁𝗶𝗼𝗻𝘀 𝗶𝗻 𝗼𝗿𝗱𝗲𝗿 𝘁𝗼 𝗳𝗶𝗻𝗱 𝗷𝘂𝘀𝘁𝗶𝗳𝗶𝗰𝗮𝘁𝗶𝗼𝗻 𝗳𝗼𝗿 𝘁𝗵𝗲 𝗰𝗵𝗼𝗶𝗰𝗲𝘀 𝘁𝗵𝗮𝘁 𝘄𝗲 𝗺𝗮𝗸𝗲.
"I was simply following orders," "Everyone else was doing it," "It's not illegal, so it's not wrong," "No one cares about what I do, I'm just one person."
These are some of the most popular excuses we find for ourselves.
It's easy to cut yourself some slack when everyone else around you seems to be bending or breaking ethical rules. It's hard to stick to ethical standards when it seems that few others are doing so.
While we'd like to believe ourselves to be "good" people — it's not that easy when life's challenges are in front of us.
It's not that you are a bad person if you make bad choices; in fact: Doing the right thing is often neither easy nor pleasant.
The right thing to do is not always obvious.
The "right thing" is generally a subjective notion, dependent on the circumstances, people involved, social norms, available facts etc.
Doing the right thing may entail contradicting the accepted beliefs of the majority.
Standing up for the right thing may have negative personal financial and social consequences.
Doing the right thing may require acknowledging one's own faults and mistakes.
A sense of personal responsibility weakens when we don't see anyone else taking responsibility for their actions.
Releasing control is a convenient way to make sure that whatever happens is not our fault. If you would like to get your own personal compass back on track and feel good about making good choices, here are five tips to consider:
𝗔𝗰𝘁𝗶𝘃𝗮𝘁𝗲 𝘆𝗼𝘂𝗿 "𝗿𝗶𝗴𝗵𝘁 𝘃𝘀. 𝘄𝗿𝗼𝗻𝗴" 𝗿𝗮𝗱𝗮𝗿.
What really matters to you? What criteria do you use to determine what is right versus wrong?
𝗟𝗶𝘀𝘁𝗲𝗻 𝘁𝗼 𝘆𝗼𝘂𝗿 𝘀𝗲𝗹𝗳-𝘁𝗮𝗹𝗸.
Do you search for excuses for yourself? Do you try to rationalize your questionable decisions? Do you set different standards for your behavior? If your self-talk sounds anything like "I don't think it's a good idea but everyone else is okay with it, so I'll play along"
𝗞𝗻𝗼𝘄 𝘄𝗵𝗮𝘁 𝗺𝗮𝘁𝘁𝗲𝗿𝘀 𝘁𝗼 𝘆𝗼𝘂.
Sometimes doing the right thing may bring about criticism from other people, including those whose perspective matters to you. However, you need to remember that no one else lives your life, walks in your shoes.
𝗞𝗻𝗼𝘄 𝘆𝗼𝘂𝗿 𝗹𝗶𝗺𝗶𝘁𝘀.
To set a goal to be more ethical and aligned with your beliefs is important, but you are human and you will fail at times. Sometimes you will act against your own moral code — you may be unaware, even despite your best intentions. People sometimes make ethical mistakes, but it doesn't mean they are horrible people.
𝗤𝘂𝗲𝘀𝘁𝗶𝗼𝗻 𝗲𝘃𝗲𝗿𝘆𝘁𝗵𝗶𝗻𝗴.
Don't accept something as true only because you have been told that it is. The more you know, the better-informed decisions you will be able to make. Two people can look at the same situation and one can find it ethically sound, whereas the other — debatable at best.