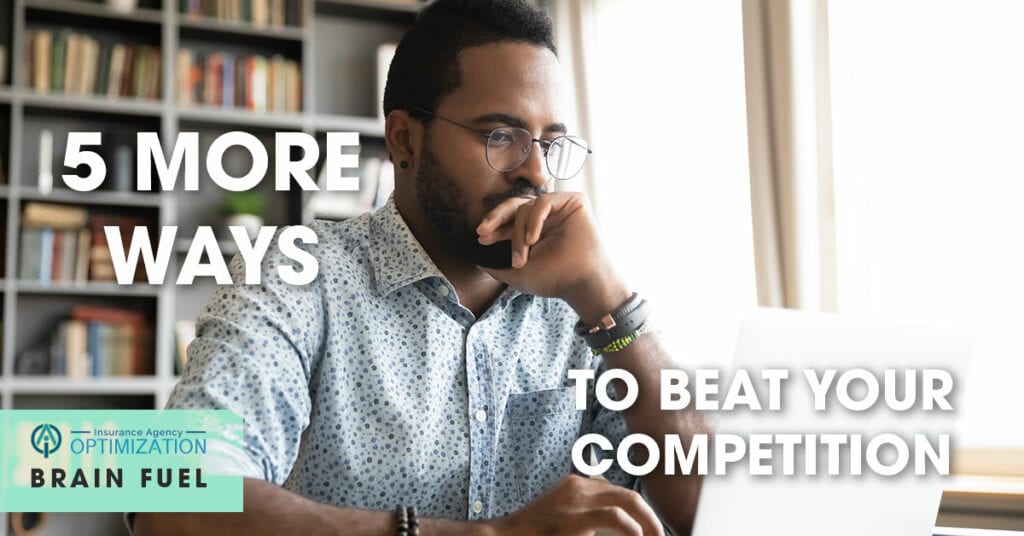 In this article, we shared five steps to beat your competitor before they get out of bed.
Did you give it a try? We admitted it takes work to change old habits. But new habits can be formed if we get serious about making these the new routine.
Here's the second set of five steps you can start doing to beat your competition:
#𝟲 𝗘𝘅𝗲𝗿𝗰𝗶𝘀𝗲 𝗙𝗶𝗿𝘀𝘁 𝗧𝗵𝗶𝗻𝗴 𝗶𝗻 𝘁𝗵𝗲 𝗠𝗼𝗿𝗻𝗶𝗻𝗴 (𝗲𝘀𝘁. 𝘁𝗶𝗺𝗲: 𝟮𝟬 𝗺𝗶𝗻𝘀)
Not only will the movement of a morning exercise routine wake you up and allow you to check off the daily exercise box on your To-Do list, but it's also scientifically proven to be better for your body.
Key hormones, like testosterone, are higher in the morning and you'll see a boost in your metabolism throughout the remainder of the day. By working out first and then eating allows your body to use the food to replenish, rather than store it as fat.
#𝟳 𝗬𝗼𝘂 𝗔𝗿𝗲 𝗪𝗵𝗮𝘁 𝗬𝗼𝘂 𝗘𝗮𝘁 (𝗲𝘀𝘁. 𝘁𝗶𝗺𝗲: 𝟭𝟬 𝗺𝗶𝗻𝘀)
Don't skip breakfast. In fact, drinking your breakfast is a quick, easy and nutritious way to go — try making a variety of smoothies with your choice of fruits and veggies. Or keep it old school with a bowl of cereal (the nutrition kind, of course) or a quick scrambled egg with bacon. Just be sure to eat something of nutritional value to fuel your brain.
#𝟴 𝗚𝗲𝘁 𝗘𝘅𝘁𝗿𝗲𝗺𝗲 𝗶𝗻 𝘁𝗵𝗲 𝗦𝗵𝗼𝘄𝗲𝗿 (𝗲𝘀𝘁. 𝘁𝗶𝗺𝗲: 𝟭𝟬 𝗺𝗶𝗻𝘀)
To really kick-start your morning, and maybe even skip that cup of coffee, begin introducing cold showers, or cryotherapy, into your routine. With the added benefits of improving immunity and circulation, stimulating weight loss, speeding recovery of muscles and refining hair and skin; it also eases stress and relieves depression symptoms.
While you may wish to jump right into the cold shower, we recommend spending the first minute cold, using warm water to bathe, then switching back to cold for a minute before leaving the shower.
#𝟵 𝗞𝗻𝗼𝘄𝗹𝗲𝗱𝗴𝗲 𝗶𝘀 𝗣𝗼𝘄𝗲𝗿 (𝗲𝘀𝘁. 𝘁𝗶𝗺𝗲: 𝟭𝟬 𝗺𝗶𝗻𝘀)
Learning and growing isn't something that stops after school. Your industry is constantly changing. Feed your brain something so it can continue to perform on a high level all day long.
Try to read 10 pages of a non-fiction book each morning.
#𝟭𝟬 𝗣𝗿𝗲𝗽 𝗳𝗼𝗿 𝘁𝗵𝗲 𝗗𝗮𝘆 (𝗲𝘀𝘁. 𝘁𝗶𝗺𝗲: 𝟭𝟬 𝗺𝗶𝗻𝘀)
Spend a few minutes putting your morning routine to paper. What were you grateful for during your meditation? What positive things are happening in your life?
Next, set your goals for the day. What do you want to accomplish before you head to bed that night? Which are ESSENTIAL? Get ready to conquer them first and with laser-like focus.
Making all of these changes at once might be extreme. Pick a few from last week and this week and start working them into your routine. Get a few down, then introduce a few others.
You'll feel amazing once you see how much more you can add to your morning than you thought you could.