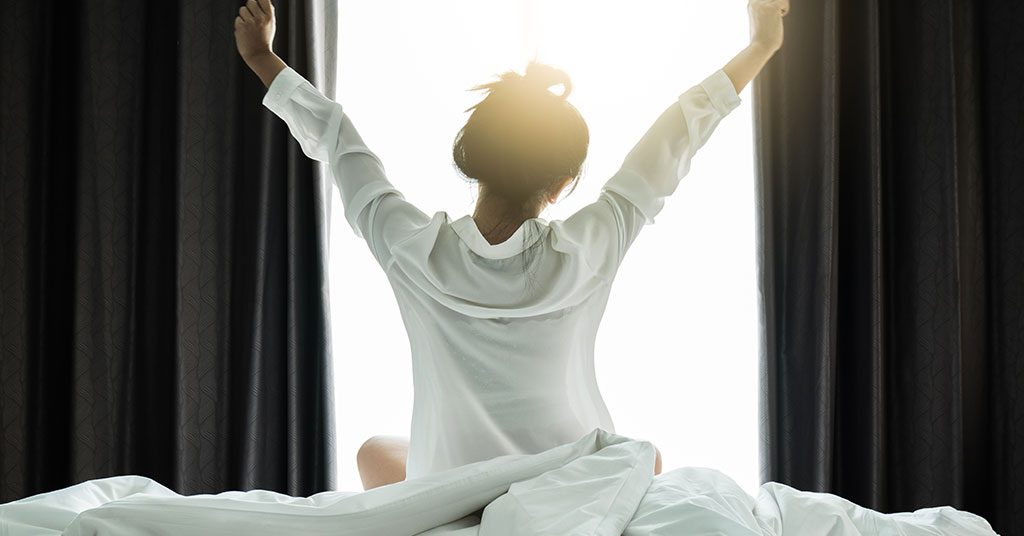 What would you do with an extra hour each day? How about two?
What level of productivity and success could you achieve if you were able to seemingly have more hours in your days than your competitors?
Having a solid and consistent morning routine is a great life hack for winning the day. Here's the thing: it's easy to do… and just as easy 𝘯𝘰𝘵 to do. Just know that you can be one step ahead of the competition before they even wake up. 𝗬𝗢𝗨'𝗟𝗟 𝗛𝗔𝗩𝗘 𝗧𝗢 𝗕𝗘 𝗖𝗢𝗠𝗠𝗜𝗧𝗧𝗘𝗗.
Here are 5 steps for staying ahead of the competition.
Proper sleep is one of the most important – and often neglected – parts of your overall health. Getting on a consistent sleep schedule is a performance and life enhancement game-changer.'
Adults need at least 7-9 hours of sleep. This probably means you'll need to go to bed at least a little earlier than you're used to so you can wake up earlier with more success.
And remember: nothing good happens after 10 PM.𝙔𝙤𝙪𝙧 𝙗𝙚𝙨𝙩, 𝙖𝙣𝙙 𝙢𝙤𝙨𝙩 𝙘𝙧𝙚𝙖𝙩𝙞𝙫𝙚, 𝙬𝙤𝙧𝙠 𝙞𝙨 𝙙𝙤𝙣𝙚 𝙖𝙛𝙩𝙚𝙧 8 𝙝𝙤𝙪𝙧𝙨 𝙤𝙛 𝙨𝙡𝙚𝙚𝙥.
It's not enough to get MORE sleep, you need to get better sleep. It's one thing to get into and out of the bed at the "right" time but if you're waking up frequently at night or not getting into a night of deep REM sleep, this is a problem.
𝙎𝙤𝙢𝙚 𝙩𝙞𝙥𝙨 𝙤𝙣 𝙜𝙚𝙩𝙩𝙞𝙣𝙜 𝙗𝙚𝙩𝙩𝙚𝙧 𝙨𝙡𝙚𝙚𝙥:
Most of us don't have extra time or money to spend on a sleep study to learn what happens to our bodies at night, but technology has come to the rescue. Track your sleep every night using the Sleep Cycle app.
To set up your sleep environment for maximum sleep remember: Light is your enemy. Studies show lights penetrate eyelids and disrupt your sleep. If you want great sleep, being in a completely dark room is the best way to go.
Stop Cheating with your Phone: Light from your phone can disrupt your sleep. Put your phone in airplane mode and shut off WIFI to eliminate any messages coming through and any electromagnetic waves from coming in while you're sleeping.
#𝟯 𝗞𝗶𝗹𝗹 𝗬𝗼𝘂𝗿 𝗦𝗻𝗼𝗼𝘇𝗲 𝗕𝘂𝘁𝘁𝗼𝗻 𝗛𝗮𝗯𝗶𝘁
𝙒𝙝𝙚𝙣 𝙮𝙤𝙪 𝙝𝙞𝙩 𝙨𝙣𝙤𝙤𝙯𝙚 𝙮𝙤𝙪'𝙧𝙚 𝙘𝙖𝙪𝙨𝙞𝙣𝙜 𝙢𝙤𝙧𝙚 𝙝𝙖𝙧𝙢 𝙩𝙝𝙖𝙣 𝙜𝙤𝙤𝙙. Huffington Post wrote a short article about Why Hitting The Snooze Button Will Screw Up Your Entire Day and we highly recommend checking that out here
https://bit.ly/2Y3AzTE
Put your alarm or phone across the room so you have to physically get out of bed.
Mel Robbins introduced us to the 5-second rule. Count backward from 5 to 1 like a rocket ship going off primes your brain to do something. Don't believe us? Hear it from Mel herself and try it out: https://bit.ly/2MZrgOc
If you wake up, get up. Nothing's better than a natural wake-up. Get a head start on your day.
#𝟰 𝗚𝗲𝘁 𝗛𝘆𝗱𝗿𝗮𝘁𝗲𝗱 (𝗲𝘀𝘁 𝘁𝗶𝗺𝗲: 𝟭 𝗺𝗶𝗻)
𝗦𝘁𝗮𝗿𝘁 𝘆𝗼𝘂𝗿 𝗱𝗮𝘆 𝘄𝗶𝘁𝗵 𝗮 𝗹𝗮𝗿𝗴𝗲 𝗴𝗹𝗮𝘀𝘀 𝗼𝗳 𝘄𝗮𝘁𝗲𝗿. Staying hydrated helps prevent headaches, muscle cramps and aids digestion. Since you haven't drunk water in the last 7-9 hours, it's what your body needs most.
#𝟱 𝗣𝗿𝗶𝗺𝗲 𝗬𝗼𝘂𝗿 𝗕𝗿𝗮𝗶𝗻 & 𝗘𝘅𝗽𝗿𝗲𝘀𝘀 𝗚𝗿𝗮𝘁𝗶𝘁𝘂𝗱𝗲 (𝗲𝘀𝘁 𝘁𝗶𝗺𝗲: 𝟭𝟱 𝗺𝗶𝗻𝘀)
Tony Robbins begins his days with breathing exercises and meditation. In 15 minutes, he primes himself for his day. Once you've learned the breathing exercises, you're ready to combine it with Tony's 10 Minute Morning Meditation routine.
𝗧𝗵𝗶𝘀 𝘃𝗶𝗱𝗲𝗼
(𝗵𝘁𝘁𝗽𝘀://𝗯𝗶𝘁.𝗹𝘆/𝟯𝟳𝘆𝗽𝗻𝗥𝗥) 𝘄𝗶𝗹𝗹 𝗴𝘂𝗶𝗱𝗲 𝘆𝗼𝘂 𝘁𝗵𝗿𝗼𝘂𝗴𝗵 𝘁𝗵𝗲 𝘀𝘁𝗲𝗽𝘀 𝘁𝗼 𝗵𝗲𝗹𝗽 𝘆𝗼𝘂 𝗰𝗲𝗻𝘁𝗲𝗿 𝘆𝗼𝘂𝗿𝘀𝗲𝗹𝗳 𝗳𝗼𝗿 𝘁𝗵𝗲 𝗿𝗲𝘀𝘁 𝗼𝗳 𝘆𝗼𝘂𝗿 𝗱𝗮𝘆.
Rest assured, 𝗶𝘁 𝘄𝗶𝗹𝗹 𝘁𝗮𝗸𝗲 𝘄𝗼𝗿𝗸 𝘁𝗼 𝗰𝗵𝗮𝗻𝗴𝗲 𝗲𝘅𝗶𝘀𝘁𝗶𝗻𝗴 𝗵𝗮𝗯𝗶𝘁𝘀, 𝗯𝘂𝘁 𝗴𝗶𝘃𝗲 𝘁𝗵𝗲𝘀𝗲 𝟱 𝗮 𝘁𝗿𝘆 𝗮𝗻𝗱 𝗹𝗲𝘁 𝘂𝘀 𝗸𝗻𝗼𝘄 𝗵𝗼𝘄 𝘁𝗵𝗲𝘆 𝘄𝗼𝗿𝗸 𝗳𝗼𝗿 𝘆𝗼𝘂.