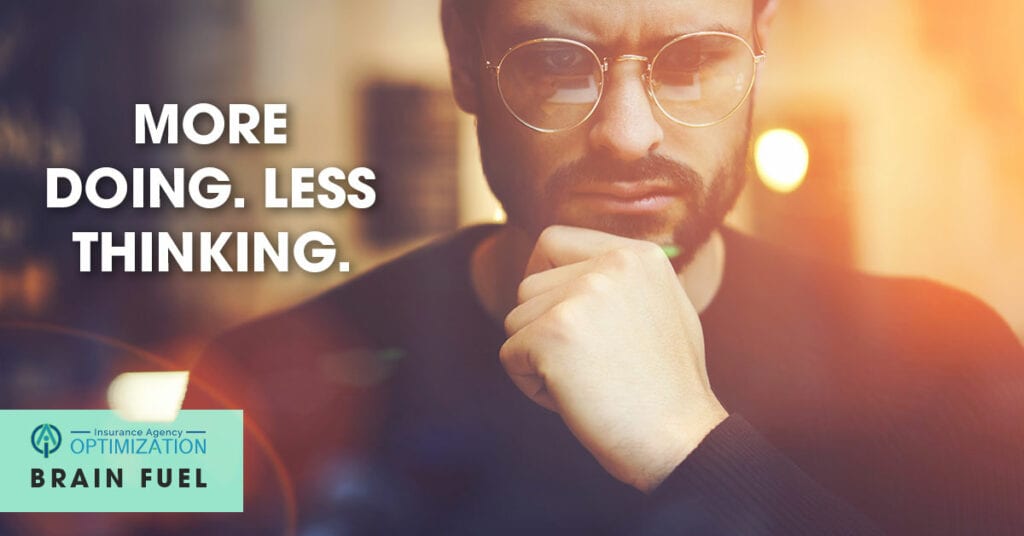 We are heading into what may be the strangest Fall planning season in our history. As we wrap up 2020 (a year NOBODY could have planned for), we now face the arduous task of planning for 2021 with so many unknowns lying ahead.
In the coming months, you will hear from other Agents, industry leaders, and outside "business gurus." Many people get excited about a lot of ideas. But unfortunately, all these ideas can push off their to-do lists, if not completely disregarding them as being unfeasible or unrealistic.
Research by psychologists Arie Kruglanski, Tory Higgins, and their colleagues suggests that we have two complementary motivational systems: the "𝘁𝗵𝗶𝗻𝗸𝗶𝗻𝗴" system and the "𝗱𝗼𝗶𝗻𝗴" system — and we're generally only capable of using one at a time.
𝗜𝗳 𝘆𝗼𝘂 𝘁𝗲𝗻𝗱 𝘁𝗼 𝗳𝗼𝗰𝘂𝘀 𝗺𝗼𝗿𝗲 𝗼𝗻 𝘆𝗼𝘂𝗿 𝘁𝗵𝗶𝗻𝗸𝗶𝗻𝗴 𝘀𝘆𝘀𝘁𝗲𝗺, 𝘆𝗼𝘂 𝘄𝗶𝗹𝗹 𝗴𝗲𝘁 𝗰𝗮𝘂𝗴𝗵𝘁 𝘂𝗽 𝗶𝗻 𝗮 𝗹𝗶𝗳𝗲 𝗼𝗳 𝗶𝗻𝗮𝗰𝘁𝗶𝗼𝗻. Thinking alone will not get you there.
𝗧𝗵𝗲 𝗼𝗻𝗹𝘆 𝘄𝗮𝘆 𝘁𝗼 𝗺𝗼𝘃𝗲 𝗳𝗼𝗿𝘄𝗮𝗿𝗱 𝗶𝘀 𝗯𝘆 𝘁𝗮𝗸𝗶𝗻𝗴 𝗮𝗰𝘁𝗶𝗼𝗻.
It's what you DO that will ultimately define who you are and what you accomplish in life, not what you THINK ABOUT doing. Thomas Jefferson once said, "𝘋𝘰 𝘺𝘰𝘶 𝘸𝘢𝘯𝘵 𝘵𝘰 𝘬𝘯𝘰𝘸 𝘸𝘩𝘰 𝘺𝘰𝘶 𝘢𝘳𝘦? 𝘋𝘰𝘯'𝘵 𝘢𝘴𝘬. 𝘈𝘤𝘵! 𝘈𝘤𝘵𝘪𝘰𝘯 𝘸𝘪𝘭𝘭 𝘥𝘦𝘭𝘪𝘯𝘦𝘢𝘵𝘦 𝘢𝘯𝘥 𝘥𝘦𝘧𝘪𝘯𝘦 𝘺𝘰𝘶."
My challenge for you is this. 𝗕𝗘 𝗔 𝗗𝗢𝗘𝗥. DO what you think about doing. 𝗗𝗢 𝘄𝗵𝗮𝘁 𝘆𝗼𝘂 𝘀𝗮𝘆 𝘆𝗼𝘂'𝗿𝗲 𝗴𝗼𝗶𝗻𝗴 𝘁𝗼 𝗱𝗼. Stop talking about what needs to be done.
Being a doer instead of just a thinker requires a great deal of discipline and commitment.
Doing involves risk, but it's the only way to make progress. If you are not willing to leave your comfort zone, look silly, sound choppy, and flat-out fall on your face, then you'll never get past the "thinking" stage.
𝗧𝗵𝗲𝗿𝗲 𝗮𝗿𝗲 𝘁𝘄𝗼 𝘁𝘆𝗽𝗲𝘀 𝗼𝗳 𝗽𝗲𝗼𝗽𝗹𝗲 𝗶𝗻 𝘁𝗵𝗶𝘀 𝘄𝗼𝗿𝗹𝗱: 𝘁𝗵𝗼𝘀𝗲 𝘄𝗵𝗼 𝗺𝗮𝗸𝗲 𝘁𝗵𝗶𝗻𝗴𝘀 𝗵𝗮𝗽𝗽𝗲𝗻 𝗮𝗻𝗱 𝘁𝗵𝗼𝘀𝗲 𝘄𝗵𝗼 𝗺𝗮𝗸𝗲 𝗲𝘅𝗰𝘂𝘀𝗲𝘀. As we enter this Fall planning season and you are serious about getting something done, identify your WHY behind the importance of it, otherwise, your excuses will constantly convince you why it can't be done.
Actions you take beat life-changing intentions. You can never get real progress if you don't take action.
Our industry is loaded with "self-help junkies." Agency owners who cannot wait to read the next book, listen to the next podcast, attend the next seminar. They have notebooks loaded with tremendous thoughts, systems, processes, tips, tricks, and mindsets that collect dust and take up space on their shelves. All of the self-help content in the world can't save you if you never take action.
Thinking about doing is more exhausting than doing. All of those dusty notebooks on your shelf and written out plans and ideas without taking action or implementation are actually making you anxious and stressed. They serve as a constant reminder that you have something to start, but never did. Continuous improvement and failing forward will always trump a list of perfect ideas.
The reality is, most things on your to-do list won't be done. Take them off your list or maintain the healthy habit of doing something about them every day. Being overwhelmed with many things to do and no sense of priority (no deadlines) usually means nothing will get done.
So, as we enter this "Fall Planning" season I encourage you to embrace these words: 𝗟𝗘𝗦𝗦 𝗜𝗦 𝗠𝗢𝗥𝗘.
The reality is, you already know WHAT you need to do and for the most part, you know HOW to do it. I'm not saying there isn't a time and place for thinking and planning, but I am saying that too many Agents spend a disproportionate amount of time in that place. In fact, I'd label it as an unhealthy amount of time.
𝗜 𝗰𝗵𝗮𝗹𝗹𝗲𝗻𝗴𝗲 𝘆𝗼𝘂 𝘁𝗼 𝘀𝗵𝗶𝗳𝘁 𝗳𝗿𝗼𝗺 𝗧𝗛𝗜𝗡𝗞𝗜𝗡𝗚 𝘁𝗼 𝗗𝗢𝗜𝗡𝗚 𝘁𝗵𝗶𝘀 𝗙𝗮𝗹𝗹.
Not only is doing easier than thinking about doing, but doing also gives you the ability to check something off your to-do list, giving you a sense of progress, engagement, fulfillment, and accomplishment.
Stick to the basics, execute at a high level on what you already know, and build that crucial momentum heading into 2021.