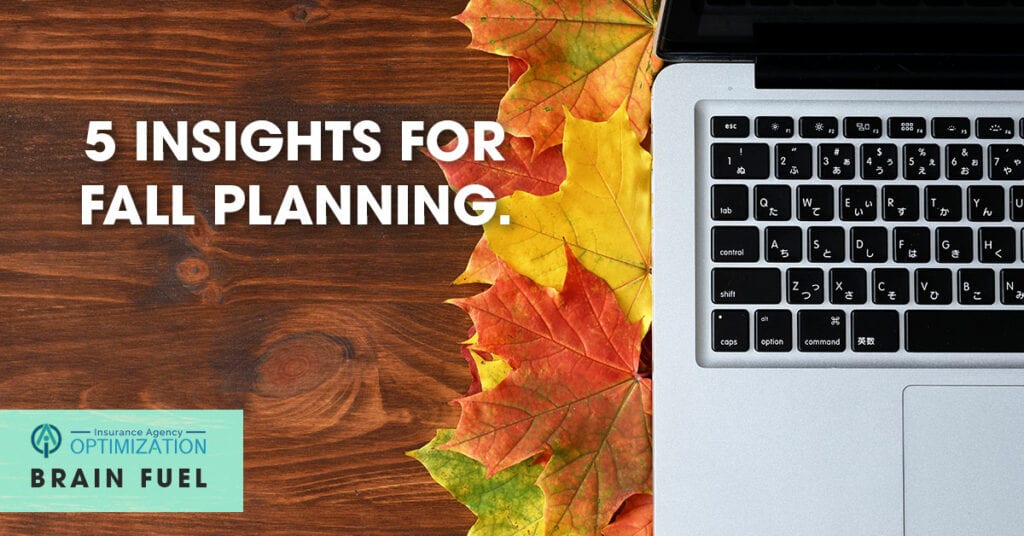 As Agency Owners it's "Fall Plan" time.
I've found that uncovering answers to 𝟱 𝗸𝗲𝘆 𝗾𝘂𝗲𝘀𝘁𝗶𝗼𝗻𝘀 can be instrumental in guiding me towards my goals for the next year, and they can be helpful to you as well… whatever your goals may be.
𝟭. 𝗗𝗼𝗲𝘀 𝘆𝗼𝘂𝗿 𝗯𝘂𝘀𝗶𝗻𝗲𝘀𝘀 𝗽𝗹𝗮𝗻 𝘀𝗲𝘁 𝘆𝗼𝘂 𝘂𝗽 𝗳𝗼𝗿 "𝗽𝗿𝗼𝗳𝗶𝘁" 𝗼𝗿 "𝗽𝗿𝗼𝗷𝗲𝗰𝘁?"
Hopefully, you understand that all we truly own at our agencies are NET PROFITS. However, when we realize (or don't realize) those profits is a business decision we each must make.
Each market is different, each team is different, each book size and tenure is different so these aren't "one size fits all" answers. 𝘽𝙖𝙨𝙚𝙙 𝙤𝙣 𝙮𝙤𝙪𝙧 𝙥𝙚𝙧𝙨𝙤𝙣𝙖𝙡 𝙨𝙞𝙩𝙪𝙖𝙩𝙞𝙤𝙣 𝙬𝙝𝙖𝙩 𝙞𝙨 𝙩𝙝𝙚 𝙗𝙚𝙨𝙩 𝙥𝙡𝙖𝙣 𝙤𝙛 𝙖𝙩𝙩𝙖𝙘𝙠 𝙛𝙤𝙧 𝙮𝙤𝙪 𝙬𝙝𝙚𝙣 𝙞𝙩 𝙘𝙤𝙢𝙚𝙨 𝙩𝙤 𝙩𝙚𝙖𝙢, 𝙢𝙖𝙧𝙠𝙚𝙩𝙞𝙣𝙜 𝙖𝙣𝙙 𝙜𝙧𝙤𝙬𝙩𝙝 𝙨𝙩𝙧𝙖𝙩𝙚𝙜𝙮?
Are you in a situation where your plan should create an immediate impact on your bottom line (profit)? Or are you prepared to re-invest those dollars to load the boat today with the expectation of even larger revenue results in the future (project)?
Ideally, if you can balance the two by realizing profits today while still setting yourself up for growth into the future that's a Home Run! But again, every situation is different.
𝟮. 𝗪𝗵𝗮𝘁 𝗶𝘀 𝘆𝗼𝘂𝗿 "𝗪𝗵𝘆?" 𝗪𝗵𝗮𝘁 𝗶𝘀 𝘆𝗼𝘂𝗿 "𝗣𝘂𝗿𝗽𝗼𝘀𝗲 & 𝗣𝗮𝘀𝘀𝗶𝗼𝗻?"
We all had different reasons driving us to open our agencies. Perhaps those reasons are the same today as they were on day one. Or, maybe those reasons have evolved through the years. Either way, it's crucial that you answer the question, "𝙒𝙝𝙤 𝙖𝙢 𝙄 𝙙𝙤𝙞𝙣𝙜 𝙩𝙝𝙞𝙨 𝙛𝙤𝙧?" And then follow that up with "𝙒𝙝𝙮 𝙞𝙨 𝙞𝙩 𝙞𝙢𝙥𝙤𝙧𝙩𝙖𝙣𝙩 𝙛𝙤𝙧 𝙢𝙚 𝙩𝙤 𝙨𝙪𝙘𝙘𝙚𝙚𝙙?"
When you understand your WHY, PURPOSE and PASSION then it becomes a lot easier and more exciting to get out of bed and tackle the opportunities you have in front of you.
𝟯. 𝗪𝗵𝗮𝘁 𝗮𝗿𝗲 𝘁𝗵𝗲 𝟯 𝗠𝗢𝗦𝗧 𝗘𝗦𝗦𝗘𝗡𝗧𝗜𝗔𝗟, 𝗠𝗨𝗦𝗧 𝗪𝗜𝗡 𝗮𝗿𝗲𝗮𝘀 𝗳𝗼𝗿 𝗬𝗢𝗨, 𝘁𝗵𝗲 𝗖𝗘𝗢 𝗼𝗳 𝘆𝗼𝘂𝗿 𝗮𝗴𝗲𝗻𝗰𝘆 𝘁𝗼 𝗲𝘅𝗲𝗰𝘂𝘁𝗲 𝗼𝗻 𝗮𝘁 𝗮 𝗛𝗜𝗚𝗛 𝗟𝗘𝗩𝗘𝗟 𝗶𝗻 𝗼𝗿𝗱𝗲𝗿 𝘁𝗼 𝗮𝗰𝗵𝗶𝗲𝘃𝗲 𝘆𝗼𝘂𝗿 𝗴𝗼𝗮𝗹𝘀 𝗶𝗻 𝟮𝟬𝟮𝟭?
I speak to Agents all over the country and the #1 mistake I see those who are struggling make is this: they try to do TOO MUCH! LESS is MORE when it comes to productivity. When you try to be all things, to all people, all of the time it's a recipe for disaster and ultimately rather than pleasing everybody you end up satisfying NONE of them, including yourself.
Write down the 3 most essential things that when executed at a high level, nothing else can prevent you from hitting your goals. Then, every single day with laser-like focus, simply work your butt off to WIN those three areas.
Anything that does not move you closer to dominating in one of those three areas simply say NO! Or delegate it to somebody else in your office. Your time is limited, it's valuable and it shouldn't be wasted doing anything that is not essential CEO work.
𝟰. 𝗛𝗼𝘄 𝗰𝗮𝗻 𝗜 𝗮𝗱𝗱 𝗻𝗲𝘄 𝗶𝗻𝗶𝘁𝗶𝗮𝘁𝗶𝘃𝗲𝘀 𝘁𝗼 𝗶𝗺𝗽𝗿𝗼𝘃𝗲 𝗺𝘆 𝗮𝗴𝗲𝗻𝗰𝘆 𝘄𝗶𝘁𝗵𝗼𝘂𝘁 𝗱𝗶𝘀𝗿𝘂𝗽𝘁𝗶𝗻𝗴 𝗺𝘆 𝗰𝘂𝗿𝗿𝗲𝗻𝘁 𝗳𝗹𝗼𝘄?
Again, this is a common mistake for Agents. There are tens of thousands of Agency owners out there who combined have over 100,000 different thoughts, ideas, systems, processes, mindsets and mantras. Most of them are FANTASTIC ideas and they work, but you cannot implement all of them at once. I recently spent 6 hours speaking to a group of agents and I literally counted 112 different ideas that I shared. My challenge to that group and to you as well is this.
Be an 1800s gold miner. Go ahead and throw all of these different ideas into your sifter, but then shake it, keep the two or three golden nuggets you find and throw away the rest with the dirt. Identify the areas your agency is doing well and DON'T CHANGE THEM! Don't disrupt that flow. Instead, just make a few minor tweaks to the other areas. Oftentimes we overwhelm our teams by making wholesale changes. My challenge to you this year is to throw away the dirt and keep the gold.
𝟱. 𝗛𝗼𝘄 𝘄𝗶𝗹𝗹 𝘆𝗼𝘂 𝗵𝗼𝗹𝗱 𝘆𝗼𝘂𝗿𝘀𝗲𝗹𝗳 𝗮𝗰𝗰𝗼𝘂𝗻𝘁𝗮𝗯𝗹𝗲 𝘁𝗼 𝘆𝗼𝘂𝗿 𝟮𝟬𝟮1 𝗯𝘂𝘀𝗶𝗻𝗲𝘀𝘀 𝗽𝗹𝗮𝗻?
We've all muttered some form of these words in the past "nobody is as tough on me as I am!" I'm calling BS.
If we are being honest, we are the first to give ourselves a pass when things become difficult. And we are masters at justifying the reasons why.
If you are going to be at the gym every single morning for a 5 AM workout, you need to know that somebody else will be there waiting for you.
You need an accountability partner.
Find somebody who will hold you accountable to your 2020 business plan goals. Somebody who cares enough about you to look you in the eye and challenge you to do better. Somebody who won't take your BS excuses as to why you are slacking. Then, you have to be that person for them too.
Answer these 5 questions, take consistent action and 𝗗𝗢𝗠𝗜𝗡𝗔𝗧𝗘 your market in 2021!