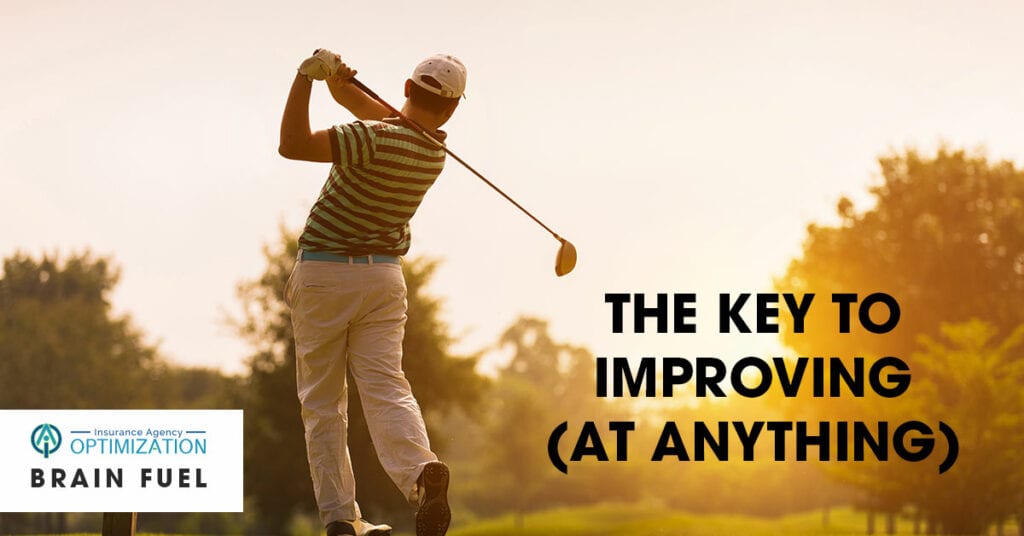 When I hear from team members about struggles with certain tasks, trouble hitting numbers, etc., the first thing I ask them is about their practice routine.
𝙃𝙤𝙬 𝙖𝙧𝙚 𝙩𝙝𝙚𝙮 𝙧𝙤𝙡𝙚 𝙥𝙡𝙖𝙮𝙞𝙣𝙜?
𝙒𝙝𝙚𝙣 𝙖𝙧𝙚 𝙩𝙝𝙚𝙮 𝙧𝙤𝙡𝙚 𝙥𝙡𝙖𝙮𝙞𝙣𝙜?
𝙒𝙝𝙖𝙩 𝙩𝙞𝙢𝙚 𝙗𝙡𝙤𝙘𝙠𝙨 𝙙𝙤 𝙩𝙝𝙚𝙮 𝙝𝙖𝙫𝙚 𝙙𝙚𝙙𝙞𝙘𝙖𝙩𝙚𝙙 𝙩𝙤 𝙬𝙤𝙧𝙠𝙞𝙣𝙜 𝙬𝙞𝙩𝙝 𝙩𝙝𝙚𝙞𝙧 𝙩𝙚𝙖𝙢 𝙖𝙣𝙙 𝙩𝙝𝙚 𝙩𝙚𝙖𝙢 𝙬𝙞𝙩𝙝 𝙚𝙖𝙘𝙝 𝙤𝙩𝙝𝙚𝙧?
The answer I usually get: "We don't."
That's a problem.
𝗛𝗼𝘄 𝗰𝗮𝗻 𝘄𝗲 𝗴𝗲𝘁 𝗯𝗲𝘁𝘁𝗲𝗿 𝗮𝘁 𝗮𝗻𝘆𝘁𝗵𝗶𝗻𝗴 𝗶𝗻 𝗹𝗶𝗳𝗲 𝗶𝗳 𝘄𝗲 𝗱𝗼𝗻'𝘁 𝗽𝗿𝗮𝗰𝘁𝗶𝗰𝗲?
Where along the way did we begin to think that our first customer of the day is going to walk in the door and the conversation will work out perfectly?
We are in the business of muscle memory. One of systems and processes which are all very intentional. But we can't create muscle memory if we don't practice. What does that look like?
"She says this; I say that."
"Customer goes there; I go here."
"Prospect wants this; I say this in return."
We have to know exactly what is going to happen in this process before we engage with customers: what our rebuttals are; what our word tracks are. If we're not in control of our conversations it will be harder for us to arrive where we're making people feel like what they want and need is the most important thing, and bring them to a place that is a WIN-WIN for them and us.
But none of this happens if we're not practicing.
𝗖𝗵𝗮𝗹𝗹𝗲𝗻𝗴𝗲: 𝗖𝗿𝗲𝗮𝘁𝗲 𝘁𝗶𝗺𝗲 𝗯𝗹𝗼𝗰𝗸𝘀 𝗜𝗡 𝗬𝗢𝗨𝗥 𝗖𝗔𝗟𝗘𝗡𝗗𝗔𝗥 𝗳𝗼𝗿 𝗿𝗼𝗹𝗲 𝗽𝗹𝗮𝘆𝗶𝗻𝗴 𝗮𝗻𝗱 𝗽𝗿𝗮𝗰𝘁𝗶𝗰𝗲 𝘀𝗲𝘀𝘀𝗶𝗼𝗻𝘀.
I choose before the workday begins to get the day started in this way with my team; about 5-10 minutes blocks and 20 minutes total. Take a small snippet of your business to practice each day.
For us, it's things like:
value statement
transition statement
onboarding
referrals
the open to our sales program
sharing stories about certain lines of coverage
Create word tracks to rehearse that help you guide the conversation. Pick something new each day. Practice how you are going to deliver the script. And yes, you'll have impromptu moments and go "off-script" depending on the exact situation, but you will be able to direct the conversation where you want it to go. Make a point to make mistakes during practice so you can refine your answers based on various scenarios.
In this business, we have to be intentional with what we do. And this includes practicing.
If you are not used to doing this now, it will be uncomfortable to start, all change is.
𝗕𝘂𝘁 𝘁𝗵𝗲 𝗯𝗲𝗮𝘂𝘁𝘆 𝗼𝗳 𝗽𝗿𝗮𝗰𝘁𝗶𝗰𝗶𝗻𝗴 𝗶𝘀 𝘁𝗵𝗮𝘁 𝗶𝘁 𝘄𝗶𝗹𝗹 𝘀𝘁𝗮𝗿𝘁 𝘁𝗼 𝗯𝗲𝗰𝗼𝗺𝗲 𝗻𝗮𝘁𝘂𝗿𝗮𝗹 𝗮𝗻𝗱 𝘆𝗼𝘂 𝘄𝗶𝗹𝗹 𝘀𝘁𝗮𝗿𝘁 𝘁𝗼 𝗻𝗼𝘁𝗶𝗰𝗲 𝗶𝗺𝗽𝗿𝗼𝘃𝗲𝗺𝗲𝗻𝘁𝘀 𝘄𝗵𝗲𝗻 𝗶𝘁 𝗺𝗮𝘁𝘁𝗲𝗿𝘀 𝗺𝗼𝘀𝘁: 𝘄𝗶𝘁𝗵 𝘆𝗼𝘂𝗿 𝗽𝗿𝗼𝘀𝗽𝗲𝗰𝘁𝘀 𝗮𝗻𝗱 𝗰𝘂𝘀𝘁𝗼𝗺𝗲𝗿𝘀.