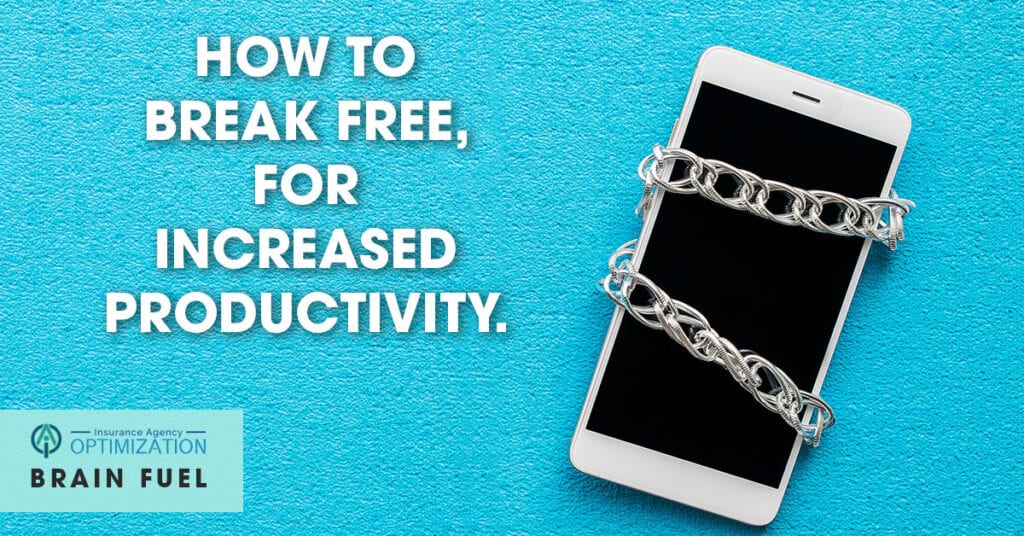 Let's be honest…we are OBSESSED. We have a behavioral addiction. We have an unhealthy relationship.
With the ONE thing that NEVER leaves our side. The ONE thing we check in with more than we check in with the people we love the most in this world. For many, it's the last thing they see before closing their eyes at night, and it's the first thing looked at each morning.
You know what it is, and you KNOW I'm right.
𝗬𝗼𝘂 𝗱𝗼𝗻'𝘁 𝗼𝘄𝗻 𝘆𝗼𝘂𝗿 𝗰𝗲𝗹𝗹 𝗽𝗵𝗼𝗻𝗲…𝗬𝗼𝘂𝗿 𝗰𝗲𝗹𝗹 𝗽𝗵𝗼𝗻𝗲 𝗼𝘄𝗻𝘀 𝗬𝗢𝗨!
Whether it's checking e-mails, texts, Facebook, Instagram, Twitter or any other of your favorites; 𝘁𝗵𝗲 𝗔𝗩𝗘𝗥𝗔𝗚𝗘 𝗵𝘂𝗺𝗮𝗻 𝘀𝗽𝗲𝗻𝗱𝘀 𝗷𝘂𝘀𝘁 𝗼𝘃𝗲𝗿 𝘁𝗵𝗿𝗲𝗲 𝗵𝗼𝘂𝗿𝘀 𝗲𝗮𝗰𝗵 𝗱𝗮𝘆 𝗼𝗻 𝘁𝗵𝗲𝗶𝗿 𝗽𝗵𝗼𝗻𝗲!! 𝗧𝗵𝗶𝗻𝗸 𝗮𝗯𝗼𝘂𝘁 𝘁𝗵𝗮𝘁. Let's just say we sleep for seven hours each day. Simple math leaves us with 17 hours to be awake. Of those hours, 𝙬𝙚 𝙖𝙧𝙚 𝙨𝙥𝙚𝙣𝙙𝙞𝙣𝙜 3 (𝙤𝙧 𝙣𝙚𝙖𝙧𝙡𝙮 20%) 𝙤𝙛 𝙤𝙪𝙧 𝙡𝙞𝙛𝙚 𝙨𝙩𝙖𝙧𝙞𝙣𝙜 𝙖𝙩 𝙤𝙪𝙧 𝙥𝙝𝙤𝙣𝙚𝙨!
NOW…I get the irony in this right now.  Chances are that many of you are reading this from your cell phone. And we are always communicating great info about
joining our Masterminds group
for optimal agency growth.
Our material and training are virtual …. self-paced training which can be completed on your computer or your PHONE.
And please do not misunderstand…I am not saying your phone is bad or you should get rid of your phone or that I don't use my phone just as much as you do.  What I am saying is 𝘁𝗵𝗲𝘆 𝗻𝗲𝗲𝗱 𝘁𝗼 𝗯𝗲 𝘂𝘀𝗲𝗱 𝗶𝗻 𝗺𝗼𝗱𝗲𝗿𝗮𝘁𝗶𝗼𝗻; no different than consuming alcohol, chocolate or pizza. All of those things you can, and SHOULD, enjoy once in a while.
However, when any of those things are not kept to occasional or moderate use they fall into the addiction category. When you cannot stop doing something, walk away from something or ignore something for an extended period of time, you are probably addicted.
𝗔𝘀 𝗮 𝘀𝗼𝗰𝗶𝗲𝘁𝘆 𝘄𝗲 𝗵𝗮𝘃𝗲 𝗮 𝗯𝗲𝗵𝗮𝘃𝗶𝗼𝗿𝗮𝗹 𝗮𝗱𝗱𝗶𝗰𝘁𝗶𝗼𝗻 𝘁𝗼 𝗼𝘂𝗿 𝗰𝗲𝗹𝗹 𝗽𝗵𝗼𝗻𝗲𝘀 𝗮𝗻𝗱 𝗶𝘁'𝘀 𝗞𝗜𝗟𝗟𝗜𝗡𝗚 𝗢𝗨𝗥 𝗣𝗥𝗢𝗗𝗨𝗖𝗧𝗜𝗩𝗜𝗧𝗬 .
When you hear the alert that you have a text message it distracts you. Even if you don't check it right away, you start wondering who it is and lose focus on the task you're working on. Then, when you do stop what you are doing it takes an average of 23 minutes to get back into the flow of work!
If you start working on a project at 9:00 AM and then check a text message at 9:15, then finally get back into the flow by 9:48 and then check and respond to an e-mail at 10:00 and then get back into the workflow by 10:23 AM and then realize you have eleven Facebook notifications at 10:30…suddenly you realize by 11:00 AM you are still working on the same project you started at 9:00 AM.
You know, the project should have taken you about 45 minutes to complete. But you might think you are the exception, right?
You are able to multi-task and not lose focus while jumping from activity to activity. Well, I'm here today to bring you some tough love. Because YOU ARE NOT the exception to that rule.
Back in the day it used to be people worked for 8 straight hours then had to make plans to create distractions in their lives. 𝗢𝘂𝗿 𝗿𝗲𝗮𝗹𝗶𝘁𝘆 𝘁𝗼𝗱𝗮𝘆 𝗶𝘀 𝗷𝘂𝘀𝘁 𝘁𝗵𝗲 𝗼𝗽𝗽𝗼𝘀𝗶𝘁𝗲. 𝗢𝘂𝗿 𝗹𝗶𝘃𝗲𝘀 𝗮𝗿𝗲 𝗳𝗶𝗹𝗹𝗲𝗱 𝘄𝗶𝘁𝗵 𝗱𝗶𝘀𝘁𝗿𝗮𝗰𝘁𝗶𝗼𝗻𝘀 𝗮𝗻𝗱 𝗻𝗼𝘄 𝘄𝗲 𝗵𝗮𝘃𝗲 𝘁𝗼 𝗣𝗟𝗔𝗡 𝘁𝗼 𝗴𝗲𝘁 𝗼𝘂𝗿 𝘄𝗼𝗿𝗸 𝗶𝗻.
 So here is my suggestions and ask of you today: Knowing that
𝗙𝗢𝗖𝗨𝗦, 𝗖𝗢𝗡𝗖𝗘𝗡𝗧𝗥𝗔𝗧𝗜𝗢𝗡, 𝗮𝗻𝗱 𝗠𝗢𝗠𝗘𝗡𝗧𝗨𝗠
are crucial to our productivity…I'm not asking you to keep your cell phones home…I'm simply asking you to 𝗸𝗲𝗲𝗽 𝘁𝗵𝗲𝗺 𝗼𝘂𝘁 𝗼𝗳 𝘀𝗶𝘁𝗲 𝗮𝗻𝗱 𝗼𝘂𝘁 𝗼𝗳 𝗺𝗶𝗻𝗱 𝗳𝗼𝗿 𝗯𝗹𝗼𝗰𝗸𝘀 𝗼𝗳 𝘁𝗶𝗺𝗲.
𝗨𝘀𝗲 𝘁𝗵𝗲 𝘁𝗼𝗽 𝗼𝗳 𝗲𝗮𝗰𝗵 𝗵𝗼𝘂𝗿 𝘁𝗼 𝗯𝗿𝗲𝗮𝗸, 𝗰𝗵𝗲𝗰𝗸 𝘆𝗼𝘂𝗿 𝗽𝗵𝗼𝗻𝗲𝘀, 𝗱𝗼 𝘆𝗼𝘂𝗿 𝗳𝗼𝗹𝗹𝗼𝘄-𝘂𝗽𝘀 𝗮𝗻𝗱 𝘁𝗵𝗲𝗻 𝗴𝗲𝘁 𝗯𝗮𝗰𝗸 𝘁𝗼 𝘄𝗼𝗿𝗸.
So start off at 9:00 AM with the phone out of sight and out of mind
At 10:00 walk away from your desk, stretch, get some movement in, get some water, check your phones, follow up accordingly and then get back to work at 10:10.
Then, repeat the process at 11:00 AM, then NOON, and so on.
The beauty of our jobs is we all have a phone right on our desks. So if there is an "EMERGENCY" you can easily be reached. Nobody ever had an emergency that was texted or emailed to them. And you surely aren't notified of emergencies via Facebook, Instagram or Twitter.
So try it. TODAY. Right now in fact. 𝗣𝗨𝗧 𝗬𝗢𝗨𝗥 𝗣𝗛𝗢𝗡𝗘𝗦 𝗗𝗢𝗪𝗡. 
Then, check in at the top of each hour. During one of these "productivity breaks" come back to this post and tell us how much more productive your day has been. 
Remember, 𝗬𝗢𝗨 𝗼𝘄𝗻 𝘁𝗵𝗲 𝗽𝗵𝗼𝗻𝗲 𝗶𝘁 𝗱𝗼𝗲𝘀𝗻'𝘁 𝗼𝘄𝗻 𝘆𝗼𝘂.