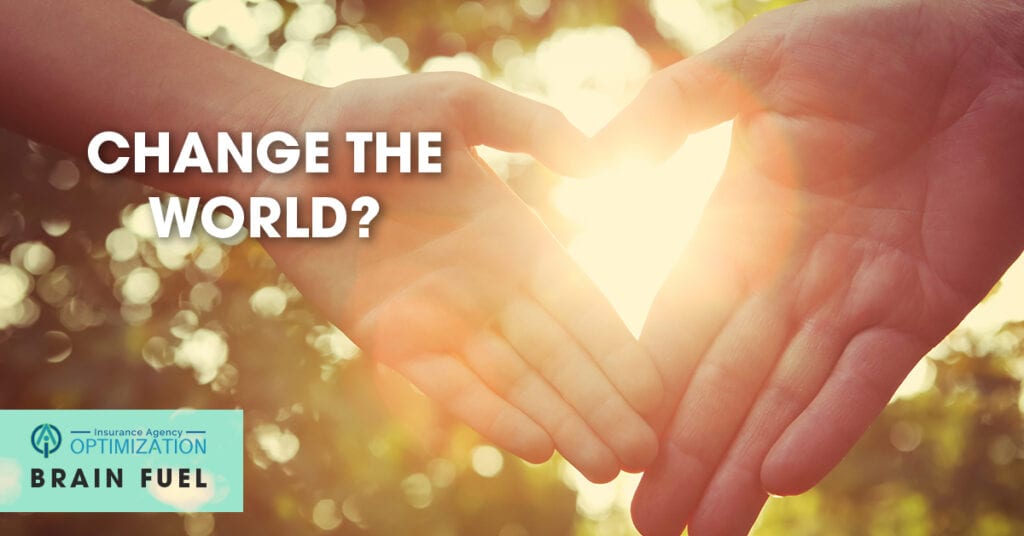 "𝑻𝒉𝒆 𝒐𝒏𝒆𝒔 𝒘𝒉𝒐 𝒂𝒓𝒆 𝒄𝒓𝒂𝒛𝒚 𝒆𝒏𝒐𝒖𝒈𝒉 𝒕𝒐 𝒕𝒉𝒊𝒏𝒌 𝒕𝒉𝒂𝒕 𝒕𝒉𝒆𝒚 𝒄𝒂𝒏 𝒄𝒉𝒂𝒏𝒈𝒆 𝒕𝒉𝒆 𝒘𝒐𝒓𝒍𝒅 𝒂𝒓𝒆 𝒕𝒉𝒆 𝒐𝒏𝒆𝒔 𝒘𝒉𝒐 𝒅𝒐." – John McAfee
We'd guess that you wish you could change the world, wherever you live.  But you might be thinking: 𝙒𝙝𝙖𝙩 𝙘𝙖𝙣 𝑰 𝙥𝙤𝙨𝙨𝙞𝙗𝙡𝙮 𝙙𝙤 𝙩𝙤 𝙘𝙝𝙖𝙣𝙜𝙚 𝙩𝙝𝙚 𝙬𝙤𝙧𝙡𝙙?
When a task seems too big, it's human nature to believe it can't be done. HOW COULD ONE PERSON CHANGE THE WORLD???
Isn't it true that the task wouldn't be easy, but it can be done? Look at these people, who have changed the world:
𝗔𝗹𝗯𝗲𝗿𝘁 𝗘𝗶𝗻𝘀𝘁𝗲𝗶𝗻 changed the way that physicists think and made them rethink everything they thought they knew.
For nearly 100 years he has been the gold standard for brains. His theory of relativity still guides physicists today and has led to all sorts of discoveries in the modern world. It's remarkable. It is easy to think that normal people like you and I could never accomplish such things but Einstein famously said,
"𝘐𝘵'𝘴 𝘯𝘰𝘵 𝘵𝘩𝘢𝘵 𝘐 𝘢𝘮 𝘴𝘰 𝘴𝘮𝘢𝘳𝘵, 𝘪𝘵'𝘴 𝘫𝘶𝘴𝘵 𝘵𝘩𝘢𝘵 𝘐 𝘴𝘵𝘢𝘺 𝘸𝘪𝘵𝘩 𝘱𝘳𝘰𝘣𝘭𝘦𝘮𝘴 𝘭𝘰𝘯𝘨𝘦𝘳."
It was being persistent with small daily actions that lead him to success. A consistent persistence to work out problems and not give up.
𝗦𝘁𝗲𝘃𝗲 𝗝𝗼𝗯𝘀 changed how we access all sorts of information in the modern world. We've seen the birth of the personal computer and the phenomenon that is the world wide web. Steve took it to the next level by putting 1,000 songs in your pocket, shrinking the size of a computer to a Star Trek tablet, and allows us to see people in real-time who are a continent away.
It's hard to find an equal to his product innovation. Many people forget that Steve's life was full of setbacks. He almost ran Apple into the ground and was famously fired by the board of directors. Eventually, he came back and led the company to amazing new heights. He never stopped taking action each day to innovate and continued to believe in his abilities.
𝗠𝗼𝘁𝗵𝗲𝗿 𝗧𝗲𝗿𝗲𝘀𝗮
was born poor and dedicated her life to helping those in need. She moved to India and after seeing how poverty affected that area of the world and decided to do something about it. She didn't have a lot of money but she started small and worked to help as many people as she could every day.
By 1996, Teresa operated 517 missions in over 100 countries and was eventually honored as a Saint in the Catholic Church.
All of these people who changed the world are really no different than you or me. They had all the same body parts and came from modest beginnings. The 𝗸𝗲𝘆 𝘁𝗼 𝘁𝗵𝗲𝗶𝗿 𝘀𝘂𝗰𝗰𝗲𝘀𝘀, and why everyone knows their names, is that they 𝘁𝗼𝗼𝗸 𝘀𝗺𝗮𝗹𝗹 𝗱𝗮𝗶𝗹𝘆 𝗮𝗰𝘁𝗶𝗼𝗻𝘀, 𝗼𝘃𝗲𝗿 𝗮𝗻𝗱 𝗼𝘃𝗲𝗿 𝗮𝗻𝗱 𝗼𝘃𝗲𝗿 𝗮𝗴𝗮𝗶𝗻. At the end of their lives, they looked up and realized, "𝙃𝙚𝙮, 𝙢𝙖𝙮𝙗𝙚 𝙄 𝙙𝙞𝙙 𝙨𝙤𝙢𝙚𝙩𝙝𝙞𝙣𝙜 𝙜𝙧𝙚𝙖𝙩 𝙝𝙚𝙧𝙚."
THE REAL IMPACT THESE CHANGE-MAKERS HAD ON THE WORLD IS THAT THEY TOUCHED THE LIVES OF PEOPLE BY CREATING A RIPPLE EFFECT.
You can do the same thing.
One day Mother Teresa helped one person. She had a passion for it so it kept going. Other people saw what she was doing and wanted to help her cause. Those people helped more people and the ripple began. She wasn't a superhero; she was just kind to others every day of her life.
𝗖𝗛𝗔𝗟𝗟𝗘𝗡𝗚𝗘 #𝟭: What is something kind you can do today that can have that same ripple effect?
𝗖𝗛𝗔𝗟𝗟𝗘𝗡𝗚𝗘 #𝟮: What can you do that may inspire someone to pay it forward and help someone out?
Can you open a door for someone with their arms full? Of course you can. That's easy.
Can you let someone into traffic with a smile and a wave? Sure.
Can you volunteer to help feed people at a soup kitchen? Yep.
All of these things cost you nothing but can start a ripple effect of
𝗥𝗮𝗻𝗱𝗼𝗺 𝗔𝗰𝘁𝘀 𝗼𝗳 𝗞𝗶𝗻𝗱𝗻𝗲𝘀𝘀
. If you did it for a week would it change the world? Probably not. But what if you were persistent for a lifetime? Could that change the world?
There is only one way to find out.