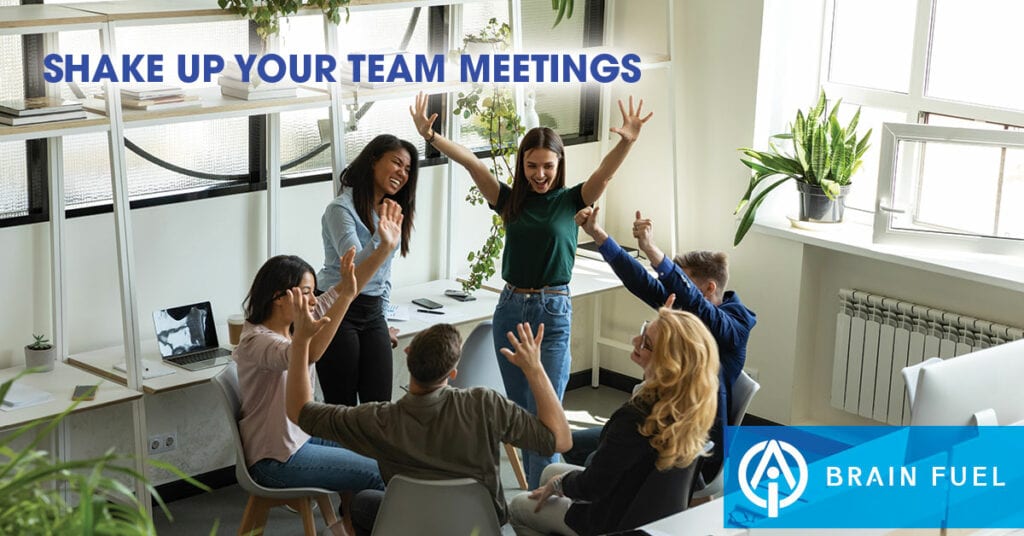 Production.
Goals.
Accountability.
Sales.
Commissions.
Quotas.
Trackers.
As agents, we focus most of our team meeting time explaining the importance of each of those words. They certainly deserve the spotlight as the foundation for our agency's financial success, but we can't ONLY focus on them.
As humans, we also live by emotions. We want to have fun, be happy, feel appreciated, be understood, etc.
Production and sales numbers are important, but they aren't always fun.
Tracking activities and achieving goals is great, but it doesn't always translate to appreciation.
𝗧𝗼 𝗳𝘂𝗲𝗹 𝘁𝗵𝗲 𝗲𝗺𝗼𝘁𝗶𝗼𝗻𝘀 𝗼𝗳 𝘆𝗼𝘂𝗿 𝘁𝗲𝗮𝗺, 𝗵𝗲𝗿𝗲'𝘀 𝗮 𝗳𝘂𝗻 𝗰𝗵𝗮𝗹𝗹𝗲𝗻𝗴𝗲: 𝗔𝘁 𝗹𝗲𝗮𝘀𝘁 𝗼𝗻𝗰𝗲 𝗮 𝘄𝗲𝗲𝗸 𝘀𝗽𝗲𝗻𝗱 𝗻𝗼 𝗺𝗼𝗿𝗲 𝘁𝗵𝗮𝗻 𝗳𝗶𝘃𝗲 𝗺𝗶𝗻𝘂𝘁𝗲𝘀 𝗼𝗿 𝘀𝗼 𝗼𝗻 𝗻𝘂𝗺𝗯𝗲𝗿𝘀 𝘁𝗵𝗲𝗻 𝗷𝘂𝗺𝗽 𝗶𝗻𝘁𝗼 𝘀𝗼𝗺𝗲𝘁𝗵𝗶𝗻𝗴 𝗳𝘂𝗻.
It shouldn't even be insurance-related. Get creative and think outside the box. Give your team a break from the mundane and grow closer together personally. Here are a couple of ideas to jump-start your insurance team meetings.
This one is a classic team-building exercise. Sit around a table and simply start by turning to the person on your left and say something nice about them. That person then turns to their left and does the same. Once you go around the room once to the left, switch to the right. There is power in kindness. People love to hear a compliment and the person giving the compliment will feel fulfilled too.
𝗙𝘂𝗻 𝗙𝗮𝗰𝘁.
Have everyone write down a fun or interesting fact about themselves that they don't believe anybody else would know. Throw them in a bucket. Then, throw in a few fictitious/outrageous statements (keep them clean and legal) then add those to the bucket as well. Pull out the papers one by one, read them, and have the team write down which person they think belongs to which statement. In the end, each person reads their answers and the laughter (and stories) will begin!