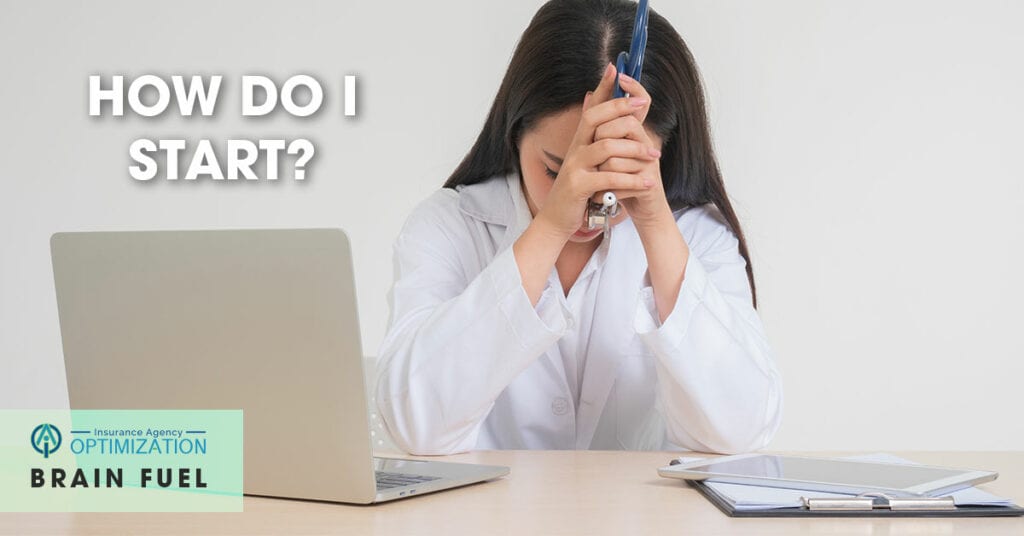 You've heard the old cliché, "Practice makes perfect" right?
Perhaps that's true. However, it's also an impractical goal. Within our agencies we should be striving for IMPROVEMENT, not PERFECTION.
Perfection is a unicorn, it doesn't exist. Deep down we know this, but too often we act as if we don't understand it. We wait to start something new until we feel like we've perfected it and unfortunately, we never will, so we never start.
Today I want to share some of the reasons you may be shaking your head in agreement as you read this, but then don't actually TAKE ACTION on practicing.
We wait to start something new until we feel like we've perfected it and unfortunately, we never will…so we never start. Our reasons for not taking action boil down to three reasons:
"𝙀𝙫𝙚𝙧𝙮𝙩𝙝𝙞𝙣𝙜 𝙞𝙨 𝙣𝙚𝙬 𝙖𝙣𝙙 𝙩𝙝𝙚𝙧𝙚'𝙨 𝙩𝙤𝙤 𝙢𝙪𝙘𝙝 𝙩𝙤𝙤 𝙡𝙚𝙖𝙧𝙣."
"𝙏𝙝𝙚 𝘼𝙜𝙚𝙣𝙘𝙮 𝙞𝙨 '𝙗𝙪𝙨𝙮' 𝙤𝙧 𝙮𝙤𝙪𝙧 𝙥𝙚𝙧𝙨𝙤𝙣𝙖𝙡 𝙡𝙞𝙛𝙚 𝙞𝙨 '𝙗𝙪𝙨𝙮' 𝙨𝙤 𝙩𝙝𝙚𝙧𝙚'𝙨 𝙣𝙤𝙩 𝙚𝙣𝙤𝙪𝙜𝙝 𝙩𝙞𝙢𝙚."
"𝙔𝙤𝙪 𝙙𝙤𝙣'𝙩 𝙠𝙣𝙤𝙬 𝙬𝙝𝙚𝙧𝙚 𝙩𝙤 𝙨𝙩𝙖𝙧𝙩 𝙤𝙧 𝙝𝙤𝙬 𝙩𝙤 𝙜𝙤 𝙖𝙗𝙤𝙪𝙩 𝙞𝙩."
Here's the solution to all 3 of those problems:
𝗔. 𝗧𝗵𝗲 𝗢𝗡𝗟𝗬 𝘄𝗮𝘆 𝘁𝗼 𝗲𝗮𝘁 𝗮𝗻 𝗲𝗹𝗲𝗽𝗵𝗮𝗻𝘁 𝗶𝘀 𝗼𝗻𝗲 𝗯𝗶𝘁𝗲 𝗮𝘁 𝗮 𝘁𝗶𝗺𝗲.
Yes, there's tons to learn within an agency (and it's ever-changing), but you cannot do it all at once. Play the long game, learn something new and practice something new ONE step at a time and ALWAYS celebrate SMALL WINS along the way. The entire premise of Insurance Agency Optimization is to help you learn in small pieces…one step at a time; day by day.
𝗕. 𝗟𝗶𝗳𝗲 𝘄𝗶𝗹𝗹 𝗔𝗟𝗪𝗔𝗬𝗦 𝗯𝗲 𝗯𝘂𝘀𝘆, 𝘁𝗵𝗮𝘁 𝘄𝗶𝗹𝗹 𝗡𝗘𝗩𝗘𝗥 𝗰𝗵𝗮𝗻𝗴𝗲.
With ANYTHING you want to accomplish, that you are truly SERIOUS about accomplishing you'll either MAKE the time to get it done or you will choose not to. That choice is ALWAYS yours to make though. The good news is, I'm going to share with you a way you can begin learning, practicing and inching your way to mastery by only finding 20 minutes each day. This will require you to become DELIBERATE with your practice time.
𝗖. 𝗗𝗼𝗻'𝘁 𝗸𝗻𝗼𝘄 𝘄𝗵𝗲𝗿𝗲 𝘁𝗼 𝘀𝘁𝗮𝗿𝘁? 𝗪𝗲𝗹𝗹, 𝘆𝗼𝘂'𝗿𝗲 𝗮𝗯𝗼𝘂𝘁 𝘁𝗼…
One of my favorite books of all time was written by one of my favorite authors of all time, 𝙊𝙪𝙩𝙡𝙞𝙚𝙧𝙨 by Malcolm Gladwell.
In the book, Gladwell dives into the "10,000-hour rule." This is the notion that it takes 10,000 hours of PRACTICE to become truly exceptional at anything, regardless of talent.
The problem this concept caused is that somewhere along the line people took that to mean it would take 10,000 hours of practice to 𝘓𝘌𝘈𝘙𝘕 anything new, which is simply not true.
𝗢𝗞, 𝘀𝗼 𝗜'𝘃𝗲 𝗼𝘂𝘁𝗹𝗶𝗻𝗲𝗱 𝗳𝗼𝘂𝗿 𝘀𝘁𝗲𝗽𝘀 𝗳𝗼𝗿 𝗴𝗲𝘁𝘁𝗶𝗻𝗴 𝘀𝘁𝗮𝗿𝘁𝗲𝗱 𝘄𝗵𝗲𝗻 𝘆𝗼𝘂 𝗱𝗼𝗻'𝘁 𝗸𝗻𝗼𝘄 𝘄𝗵𝗲𝗿𝗲 𝘁𝗼 𝘀𝘁𝗮𝗿𝘁.
#1. 𝗕𝗥𝗘𝗔𝗞 𝗗𝗢𝗪𝗡 𝗧𝗛𝗘 𝗦𝗞𝗜𝗟𝗟
Identify the MOST important aspect of the skill you are going to learn and start THERE.
#2. 𝗟𝗘𝗔𝗥𝗡 𝗘𝗡𝗢𝗨𝗚𝗛 𝗧𝗢 𝗕𝗘 𝗗𝗔𝗡𝗚𝗘𝗥𝗢𝗨𝗦. You don't need to know EVERYTHING, you only need to know enough to be able to "self-correct." Too often we struggle with "paralysis with analysis." We think we need to know it all before we do anything. THIS is the #1 killer of productivity in our industry.
All you need to know are the basics and then start practicing those. When you hear yourself say something you like, stick with THAT. When you hear yourself say something you don't like, self-correct it. That's it. Don't overthink what is a fairly simple business.
#3. 𝗥𝗲𝗺𝗼𝘃𝗲 𝗱𝗶𝘀𝘁𝗿𝗮𝗰𝘁𝗶𝗼𝗻𝘀. It's 20 minutes. You can live without your phone, texts, e-mails, social media, TV, music or any other distraction for 20 minutes. Eliminate them and focus on the practice task at hand.
#4. 𝗗𝗼 𝘁𝗵𝗶𝘀 𝗰𝗼𝗻𝘀𝗶𝘀𝘁𝗲𝗻𝘁𝗹𝘆 𝗲𝗮𝗰𝗵 𝗱𝗮𝘆 𝘂𝗻𝘁𝗶𝗹 𝘆𝗼𝘂 𝗿𝗲𝗮𝗰𝗵 𝘁𝗵𝗲 𝟮𝟬 𝗵𝗼𝘂𝗿 𝗺𝗮𝗿𝗸.
𝗧𝗮𝗸𝗲 𝗮𝗰𝘁𝗶𝗼𝗻 𝗼𝗻 𝘁𝗵𝗲𝘀𝗲 𝟰 𝘀𝘁𝗲𝗽𝘀 𝘁𝗼𝗱𝗮𝘆: Create 20-minute blocks within each of your days to practice. Learn enough to be dangerous and self-correct along the way. 60 days from now you will have put in the 20 hours required to LEARN this new skill!
Yes, it's 9,980 hours shy of Malcolm Gladwell's baseline for perfection, but the good news is… YOU DON'T CARE!
You strive for 𝙘𝙤𝙣𝙩𝙞𝙣𝙪𝙤𝙪𝙨 𝙞𝙢𝙥𝙧𝙤𝙫𝙚𝙢𝙚𝙣𝙩, NOT perfection.